What are the benefits of using a VPN Router?
TEK-Shangai has simplified the use of accessing international websites by deploying a VPN Router with one Astrill VPN account.
This allows everyone using the VPN Router to be on the other side of "The Great Firewall of China". Using this solution is much simpler than configuring each device with a VPN service, which can sometimes be very cumbersome and not very cost effective especially when a single household has more than 5 devices. The price of buying a router is more feasible compared to buying a VPN subscription for each person.
What are the benefits?
Access internet without limitations right when you connect to WiFi
Friends and families visiting can easily access the internet same way without buying VPN apps.
Using full function of devices like Apple TV, accessing  Netflix, HULU etc.
A lot of cases, VPN router is more stable than VPN programs on the phones or computers.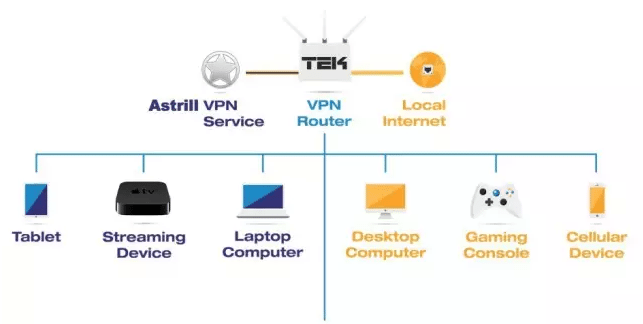 How many devices can I connect to it?
Our VPN router can handle up to 50 devices. In practice, each router has limits to the amount of traffic it can process while maintaining good performance. The performance of the router depends on the amount of FLASH and RAM that is available for processing data and buffering videos, the WiFi signal amplifier, and the CPU. You can see how our VPN routers compare to each other in the listings above.
Does it work with Apple TV and other TV boxes?
Yes! There is no way to install a VPN directly on an Apple TV or similar TV boxes, but by connecting your Apple TV to our VPN Router, you can watch YouTube, Netflix, HULU and any other services that require you to have a foreign internet connection.
What speed will I have?
The easy answer is 300-2,000KB/s, but the speed of your Chinese Internet connection will depend on this figure.
What do I need before I am willing to setup the Astrill VPN router? 
1. China Telcom or China Unicom connection in the house.
Most of the house in Shanghai is using China Telecom as the broadband provider, so we will be able to install the router. h
However for a serviced apartment, as the internet is being shared, we do not recommend to use in there.
2. An Astrill VPN account, click me to learn how to apply a new account. 
Dependencies that affect the speed of the VPN:
The performance of the VPN Router, CPU Speed of the Router
The maximum speed set by your Internet Service Provider
Activities of other Internet users in your area example Offices, Apartment Building, and resident compounds.
The bandwidth of the site you are accessing
National throttling (speed limits) for VPN Traffic
What is the cost of the router and VPN services?
TEK-Shanghai provides 2 different routers for you to choose from, as shown below.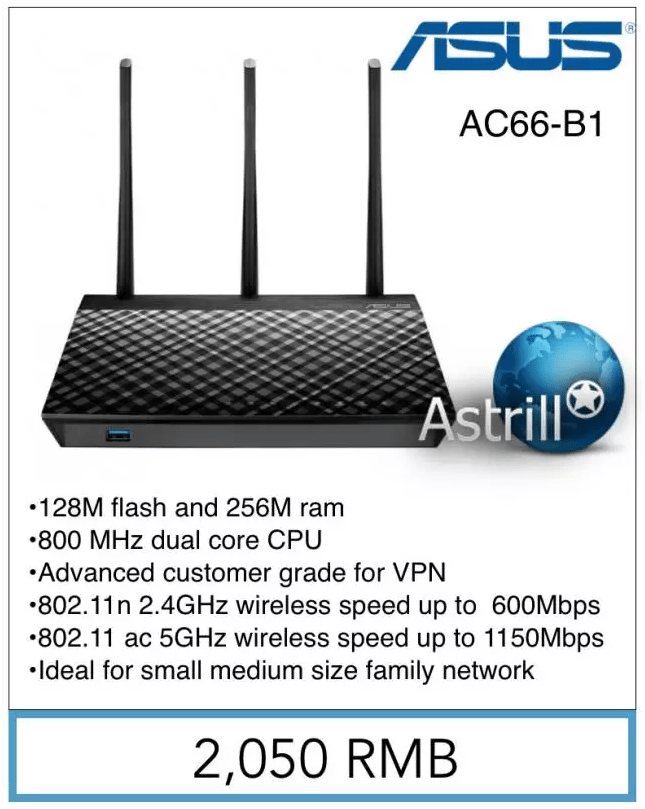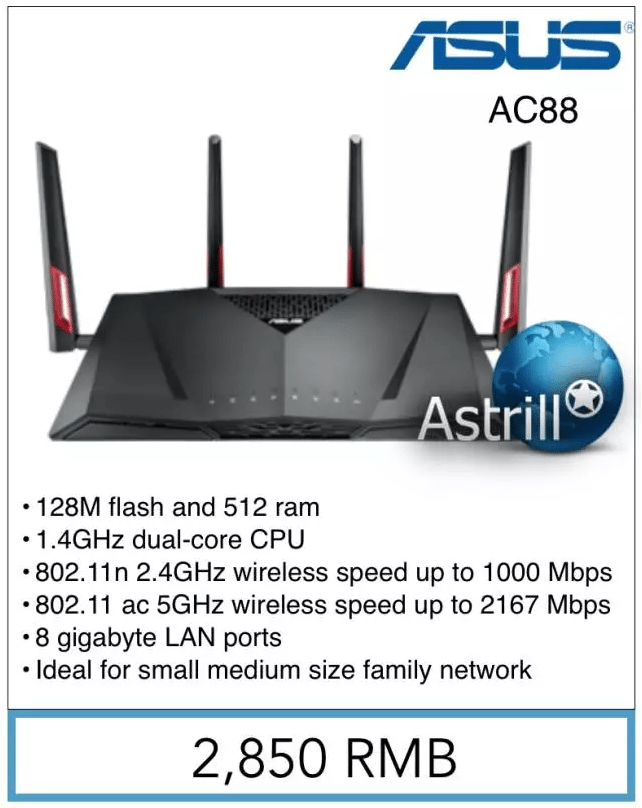 Aside from the one-time cost of the router, you will need to subscribe to the Astrill VPN service for 3 months, 6 months or 1 year.
Astrill currently offers more than 113 VPN servers in 49 countries with a range of VPN protocols and they provide 24/7 customer support via email, live-chat and phone from their highly-trained staff.
Is there any other cost besides the Router and yearly subscription fee from Astrill?
The simple answer to this is No! TEK-Shanghai offers Email / Call /Remote desktop support for the VPN Router setup, so we don't charge you if you want to install it by yourself.
However, not everyone knows where to connect the VPN Router and how to test this with all devices in the house.
We can send a highly qualified Engineer to your house:
English spoken
Highly qualified Engineer
Get you connected and train you how to use your New VPNSolution
Connect all the printer and computers to the VPN Router
Test the WiFi coverage, if needed install WiFi extender in your house to boost the signal
Our charge for this will depend on the distance from our office.
<10km, cost is 300 RMB/hour
10-20km, 400 RMB/1st hour, 300 RMB/hour thereafter
20-40KM, 500 RMB/1st hour, 300 RMB/hour thereafter