CLASSIC TOBACCO – Robust tobacco flavor couples with aromatic notes.
Vanilla –Notes of vanilla, silky custard and creme flavors.
FRUIT –Flavors of peaches, grapes and berries with herbal notes.
MENTHOL –Traditional menthol flavor with a brisk finish.
CUCUMBER – Subtle cucumber flavor with a hint of mint.
MANGO –Rich mango flavor with hints of tropical fruits.
MINT  – Crisp peppermint flavor with a soothing aftertaste.
VIRGINIA TOBACCO – Rich flavor of American tobacco.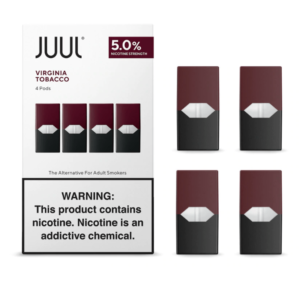 PODS CONTAIN OUR UNIQUELY
SATISFYING JUUL E-LIQUID.
Our JUULsalts™ e-liquid contains a proprietary formulation
that combines glycerol, propylene glycol, natural oils, extracts
and flavor, nicotine and benzoic acid. Together with
temperature-regulated vapor technology, this proprietary
chemistry enables JUUL to deliver a vapor experience like no other.