Kindle Paperwhite 3
Our best-selling Kindle
Highest resolution e-reader display
With twice as many pixels as the previous generation, Kindle Paperwhite has an improved high-resolution 300 ppi display for crisp, laser quality text.
No glare in bright sunlight
Unlike reflective tablet and smartphone screens, Kindle Paperwhite reads like paper.
Read comfortably with one hand
Lighter than a paperback, comfortably hold Kindle Paperwhite in one hand for those times when you can't put the book down.
Charge monthly, not daily
Kindle Paperwhite won't leave you tethered to an outlet. A single charge can last up to six weeks (based on a half hour of reading per day with wireless turned off and the light setting at ten).
Won't tire your eyes in the dark
Kindle Paperwhite guides light toward the surface of the display with its built-in front light—unlike back-lit tablets that shine in your eyes—so you can read comfortably for hours without eyestrain. Adjust your screen's brightness for great reading in any light.
Next-generation reading experience
Kindle Paperwhite offers Bookerly, an exclusive font crafted from the ground up for reading on digital screens. Warm and contemporary, Bookerly is inspired by the artistry of the best fonts in modern print books, but is hand-crafted for great readability at any font size.
Typesetting engine lays out words just as the author intended for beautiful rendering of pages. With improved character spacing and the addition of hyphenation, justification, kerning, ligatures, and drop cap support, our best-in-class typography helps you read faster with less eyestrain.
Enjoy reading with larger font sizes without compromising your reading experience. Page layout and margins automatically adapt to work well at even the largest font sizes. The typography and layout improvements are available on over half a million books, including many best sellers, with thousands more being added every week.
Lose yourself in a book
By design, Kindle Paperwhite is purpose-built for reading and creates a sanctuary so you can lose yourself in a book. Unlike tablets and phones, Kindle doesn't distract you with social media, emails, and text messages.


Flip through books while saving your place
Page Flip makes it easy to find pictures, charts, maps and even your notes and highlights from different parts of a book. While you swipe to other pages or zoom out to see page thumbnails, Page Flip automatically saves the page you're reading, pinning it to the side of your screen so you'll never lose your place.
Sharp, dark text
Enjoy text that reads like the printed page. Our fonts, such as Bookerly, have been hand-tuned at the pixel level for maximum readability.
Export and share notes
It's now easy to export notes and highlights from a book to your e-mail, so you can always have them on-hand for reference. Receive your notes both as an easily printable PDF that's ready to bring to your book club, and as a simple file you can open in your favorite spreadsheet app.
Read comfortably with one hand
Lighter than a paperback, comfortably hold Kindle in one hand for those times when you can't put the book down.

Lose yourself in a book
By design, Kindle is purpose-built for reading and creates a sanctuary so you can lose yourself in a book. Unlike tablets and phones, Kindle doesn't distract you with social media, emails, and text messages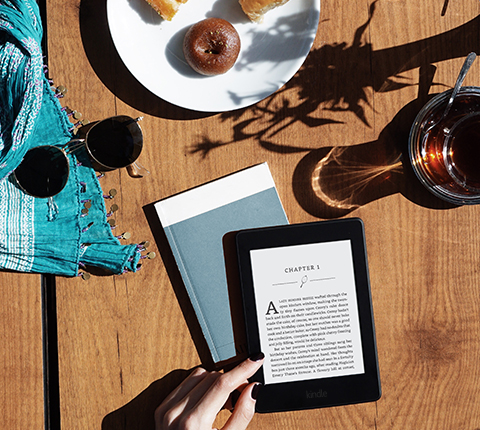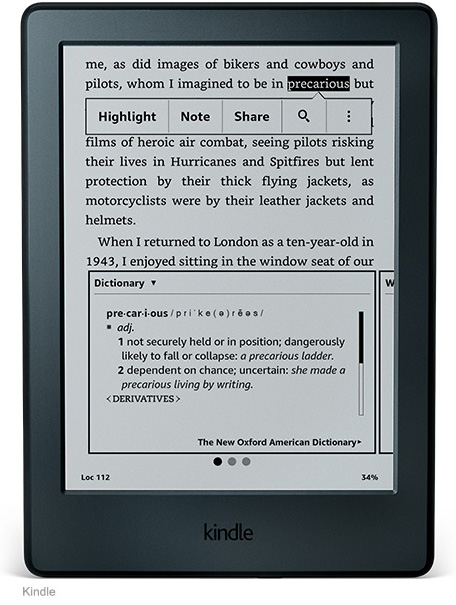 Won't tire your eyes in the dark
Unlike back-lit tablets that shine in your eyes, Kindle guides light toward the surface of the display with its built-in front light so you can read comfortably for hours without eyestrain.
Learn more about a book before you start reading
With About This Book, see background information about the author, other books in the series, and more.
Adjust your text size
Choose from eight text sizes to prevent tired eyes and keep you reading longer.
Share your library
With Family Library, you and your family can access and easily share not only your own Kindle books, but also books from the linked Amazon account of a spouse or partner.
In-line footnotes
With a single tap, read the complete text of each footnote without losing your place in the book
X-Ray lets you explore the "Bones of the Book"
See all the passages across a book that mention relevant ideas, fictional characters, historical figures, places, or topics of interest. The X-Ray timeline view lets you easily flip through notable passages to remind yourself of what's happened in the book, or navigate easily through images.
Look it up instantly while you read
Smart Lookup integrates entries from The New Oxford American Dictionary with information from X-Ray and Wikipedia, so you can access definitions, characters, settings, and more without losing your place.
Know how long it will take to finish that last chapter
Time to Read is personalized based on your reading speed, and is constantly updated as your speed and habits change. At a glance you'll know how much time it will take to finish a chapter or book.
Translate passages instantly
Tap any word or highlight a section to instantly translate it into other languages, including Spanish, Japanese, and more. Translations are provided by Bing Translator.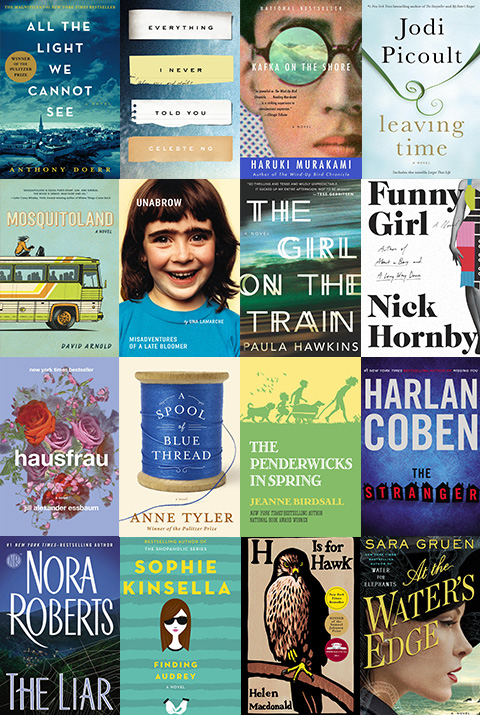 Unlimited reading on any device with Prime
Prime Reading gives you unlimited access to over a thousand books, current magazines, comics, Kindle Singles, and more. With access from any device – including your phone, tablet, or Kindle – you can read however you want, wherever you want.
Lowest book prices
Over a million titles are priced at $2.99 or less. Over 2 million titles are $9.99 or less.
Kindle Unlimited
With Kindle Unlimited, you can read as much as you want, choosing from over 1 million titles and thousands of audiobooks. Freely explore new authors, books, and genres on any device for just $9.99 a month. Try Kindle Unlimited free for 30 days
Exclusive Kindle titles
Over 1 million Kindle exclusive titles that you won't be able to find anywhere else, including books by best-selling authors such as Kurt Vonnegut, Ian Fleming, Oliver Pötzsch, and Arthur C. Clarke.
Massive selection
Millions of books (including the latest best sellers), newspapers, magazines, Kindle Singles, and more.
Kindle MatchBook
For thousands of qualifying books, your past, present, and future print-edition purchases allow you to buy the Kindle edition for $2.99 or less.
Free books in the public domain
Millions of titles in the public domain, such as A Tale of Two Cities, Les Misérables, Pride and Prejudice, and more are available for free.
Free book samples
Download and read a sample for free before you decide to buy.

Get books in seconds
Shop Amazon's expansive selection, choose a title, and begin reading in seconds. Download books in under 60 seconds—no computer required.
Lend your books
Lend eligible Kindle books to other Kindle or Kindle app users for up to 14 days.
Connect wirelessly
New titles and archived items are a simple connection away. Connect easily to your home Wi-Fi network or Wi-Fi hotspots on the road.
Connect free at AT&T hotspots
Enjoy free Wi-Fi access at AT&T hotspots across the U.S.
Find a new favorite with Goodreads
Discover great books with Goodreads on Kindle, an integrated experience that makes it easier than ever to connect and share great reads with friends. Some Goodreads on Kindle features are only available when connected to Wi-Fi.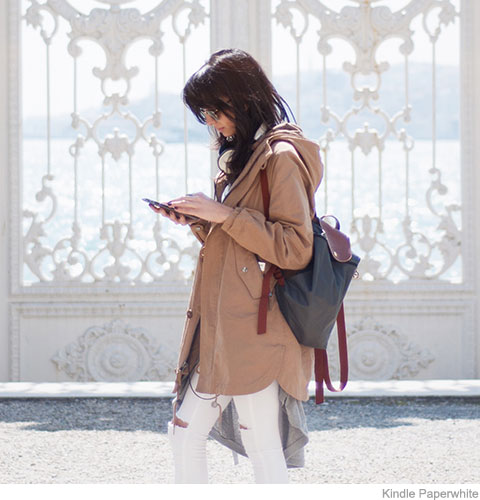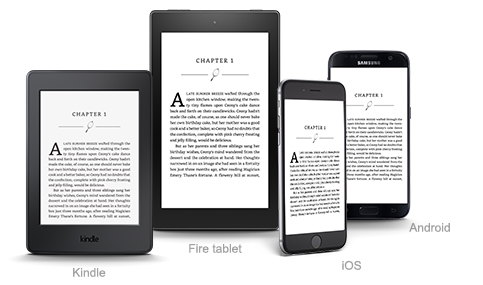 Free Kindle app
Download the Kindle app on your phone, tablet, PC or Mac to keep reading when you don't have your Kindle with you.
Switch devices without losing your place
Amazon's Whispersync technology remembers where you left off in a book, so you can seamlessly switch between your Kindle and the Kindle app on your smartphone, tablet, or computer without ever losing your place.

Set goals and celebrate with achievement badges
Kids can read books in a simple, fun, and safe environment designed specifically for them with Kindle FreeTime. Kids are rewarded with achievement badges when they reach their reading milestones. A progress report keeps parents updated on total time spent reading, number of words looked up, badges earned, and books read.
Tackle more challenging books
For kids reading their first chapter books, Word Wise, available on many popular English language titles, makes it easier to enjoy and quickly understand more challenging books. Short and simple definitions automatically appear above difficult words, so they can keep reading with fewer interruptions. Tap on a word to bring up a simple card with definitions, synonyms, and more.
Read children's books and comics
Kindle supports children's books with Kindle Text Pop-Up, and comic books with Kindle Panel View which allows you to read a comic book panel by panel.
Kindle FreeTime Unlimited
For as little as $2.99 per month, kids get unlimited access to hundreds of hand-picked chapter books and early readers, all curated for age-appropriateness, so parents don't have to spend time and money guessing what their kids will enjoy.
Vocabulary Builder
When kids look up words on Kindle, they are automatically added to the Vocabulary Builder on their device. With Vocabulary Builder, they can use flashcards to learn the definitions and usage of words.
Best-in-class parental controls
Parents can have peace of mind that kids won't access inappropriate content or websites, or accidentally make purchases as Kindle FreeTime blocks access to browsing and purchasing in the Kindle Store, access to the Internet, access to Wikipedia, and disables social sharing.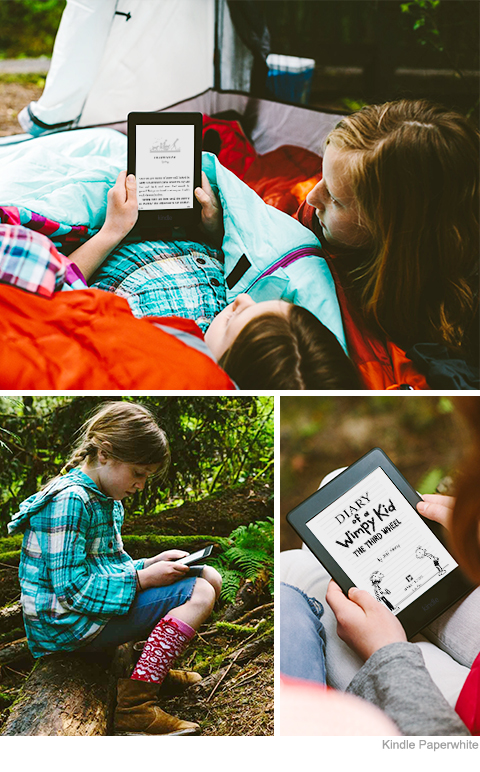 Better together
Slim, form-fitting covers designed by Amazon perfectly fit your Kindle and provide full front and back protection. The covers are easy to securely attach and remove, and fold back for easy one-handed reading. They automatically put your Kindle to sleep when closed and wake upon opening, making it easy to jump back into your books. This current generation Kindle Paperwhite is compatible with all previous generation Kindle Paperwhite covers and accessories.
We've got you covered
Choose a cover crafted from premium natural leather or durable polyurethane with a matching microfiber interior. The cover protects your Kindle and keeps your screen clean without adding bulk, making it perfect for taking your Kindle wherever you go.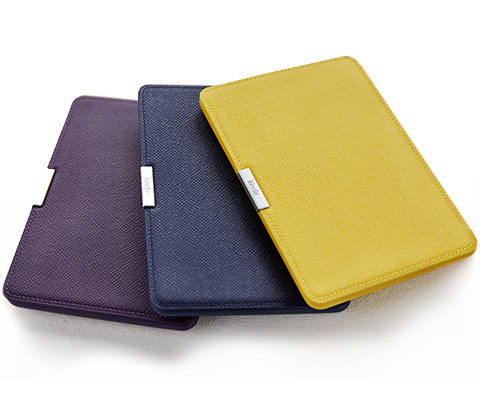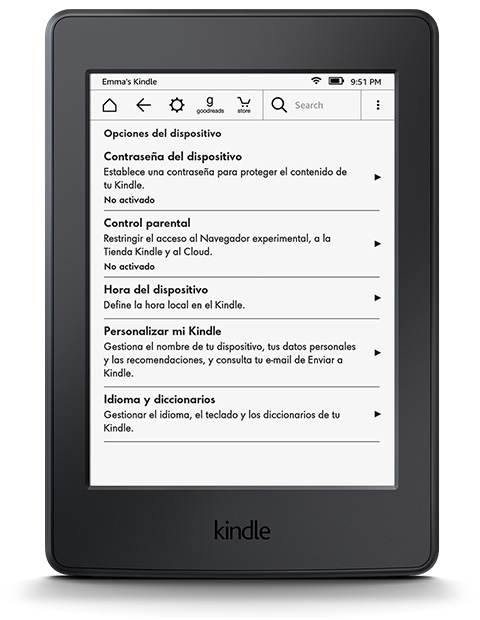 Customize to your language
Kindle can be used in English, Spanish, Brazilian Portuguese, French, German, Italian, Japanese, Russian, Dutch, and Simplified Chinese. You can easily select the language that you are most comfortable with, and enjoy instant dictionary lookups in any of these languages.
Read books in other languages
Kindle supports the display of non-Latin characters, so you can read books and documents in your favorite language, including enhanced support for Japanese and Chinese (Simplified and Traditional). Kindle also displays Korean, Cyrillic, Latin, and Greek scripts, and provides free access to several international dictionaries.
Follow along with page numbers
We match the pages of a Kindle book to the text in a print book to identify the corresponding page number. Easily reference and cite passages or read alongside others in a book club or class.
Never lose a book
We automatically back up your entire Kindle library free in the cloud so there's never a worry about losing your books. Re-download wirelessly anytime for free.
Carry and read personal documents
Email documents—including Word, PDF, and more—directly to your Kindle and read them in Kindle format. You can also send documents to Kindle using Send to Kindle.
Get special offers
Love deals? You'll receive special offers and sponsored lockscreens directly on your Kindle. Offers display on the Kindle lockscreen and on the bottom of the home screen while not in use – they don't interrupt reading.
Organize your books with Cloud Collections
Organize your Kindle library into customized collections, or categories, to easily access any book you are looking for. You can add an item to multiple collections to make organizing and finding titles even easier.
Enhanced Search
It's even easier to find what you are looking for by combining and previewing results from your Library, Goodreads, and the Kindle Store on the same page.