Energize an outdoor party, play your favorite music on a hike, or grab your tablet and watch a movie at the campsite. Bluetooth speakers offer impressive audio, go with you anywhere, and can even be paired together for a bolder sound. Plus, water-resistant Bluetooth speakers let you enjoy your music around the pool, on the boat, or at the beach without having to worry about the elements.
Benefits of a Bluetooth Speaker
Share audio on the go
Be ready for an impromptu party in the park, relax with an inspiring playlist on the deck, and enjoy crisp, clear audio when you're listening to a podcast. Bluetooth speakers come in a variety of colors, sizes and styles, so you can find the right match for your unique lifestyle.
Listen to music on a long bike ride, enjoy clear sound while you watch TV shows and movies, or finish an audio book while you work around the house — all wirelessly and without interruption. Water- and weather-resistant speakers expand the places you can go — whether you clip on a speaker while hiking or biking, or bring one to the beach, the ballgame or camping.
Rich audio experience
Bluetooth speakers are small without sacrificing sound quality. Even with their compact size and easy portability, they're designed with built-in amplifiers to deliver full-range audio whenever you want.
Shop Bluetooth speakers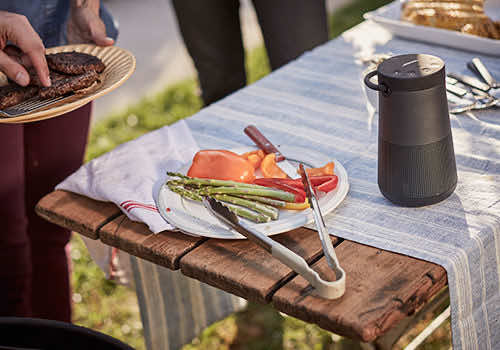 Wirelessly Connect to Your Devices
Connecting a speaker to your smartphone, MP3 player, tablet, portable game console or laptop is easy with Bluetooth technology. Some wireless speakers can even connect to each other for a richer, more developed sound.
You won't need special apps or hardware to use this technology as long as both the device and audio system are Bluetooth-enabled. However, there are apps available for some speakers to help make the experience more user-friendly. You can also find some wireless speakers that use Wi-Fi or AirPlay.
Additional Features
Voice control
Combines great sound with Amazon Alexa, Google Assistant or Microsoft Cortana voice assistant. So, along with streaming music from your mobile device, you'll have your own personal assistant to get you the latest news, order a product or operate other smart home devices just by using your voice.
Water- and weather-resistance
Choose a wireless speaker that can keep pace with your active life by surviving stormy weather, spilled drinks, and drops into puddles. From the pool to the beach to all your outdoor adventures, a water-, dirt- or weather-resistant Bluetooth speaker will keep the playlist going wherever you are. Some models are even submersible, so they are able to survive an accidental plunge into the pool or the lake.
Charge your device
If you aren't near an electrical outlet, you can still charge your device via some portable speakers. Using the battery power of the speaker, a built-in USB port allows you to plug in your charger — so you can maintain power on the go.
Pair multiple speakers
Amplify your listening experience with portable speakers that can pair directly with each other. This is especially helpful when you want to share audio with a group of people in an outdoor setting where sound needs to travel.
Speakerphone
With a speakerphone setting, you can easily take calls from your phone. Offering another layer of convenience, the feature is perfect for conference calls and anytime you don't want to miss a call. Speakers with this feature usually fade out audio streaming when the phone rings.
Where will you listen?
Stay entertained wherever you are, from a party to the pool to your own backyard. Bluetooth speakers make it easy to listen to music, watch movies, play games and more, whether you're traveling, heading outside, or staying in.
Size and style options
Portable speakers are available in a variety of weights and shapes, designed to be packed in a bag, stowed in your pocket or carried by an attached handle. You'll even find speakers with pulsing lights that add extra ambience to your audio. Plus, optional covers and cases make for a custom listening experience.