The Apple Watch Series 5 is official, with Apple unveiling the new smart watch at the Apple event in Cupertino.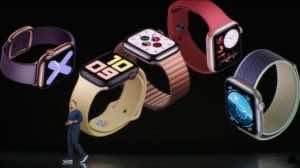 The fifth iteration of the Watch represents more of an incremental upgrade to the line than what we got with the Series 4, with the headline change being a new Retina display that can remain always-on. Crucially, the Watch will be able to maintain the same 18-hour battery life as before while offering the new feature.
It means the screen will switch to a dimmed mode when not in use, displaying the time and, depending on your choice of face, a few complications. All of the new watchOS 6 faces support the feature, along with a few old ones. Previously, the watch display would only light up when tapped or when the wrist was raised, and you can still open it that way on the Series 5 if you want.
But the Series 5 will know when to illuminate based on where the wearer's wrist is, thanks in part to the new low-temperature polysilicone and oxide display (LTPO), the ultra-low power display driver and an ambient light sensor.
Other new features include a built-in compass and an upgrade to the Emergency SOS application on cellular models, which can now call services internationally and will direct you to the appropriate emergency response team.
In terms of design, the Series 5 match the exact same specs as last year's model; the depth of the device remains at 10.7mm, while the height and width specs sit at 40mm x 34mm for the smaller version, stretching to 44mm x 38mm for the bigger model.
It's also bringing back the ceramic – an option removed for the Series 4 – and once again offering stainless steel casing upgrades. The Series 4 is also going away completely to make way for the Series 5.
Collaborations will also be continuing with Nike (with the name changing from the Apple Watch Nike+ Edition to just Apple Watch Nike) and Hermes, with a number of bespoke bands and faces again available.
We'll have news on when it will be available at TEK-Shanghai very soon, so keep an eye and ear out!