Electric Scooters
Segway – NineBot Mini smart self balancing personal transporter
---
Extremely portable, learn to ride in just 3 minutes
Travel up to 22km in a single charge, packs over 15 security features
4X faster than walking
700 watt, high-performance dual-motor engine
Road adaptive- Climbs 15° inclines and over small obstacles easily
¥2,699.00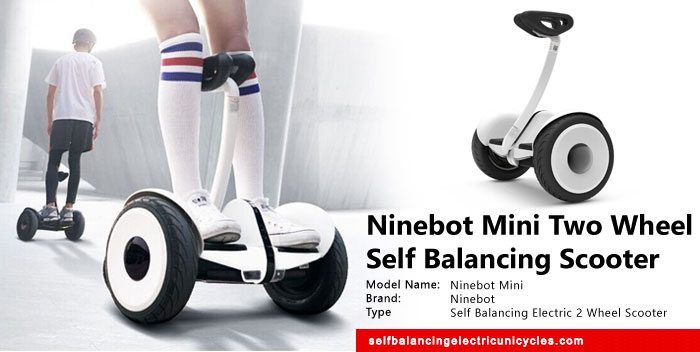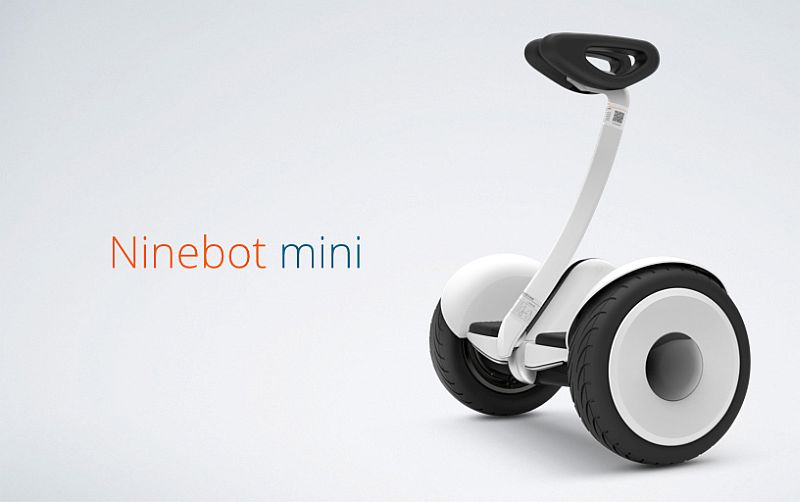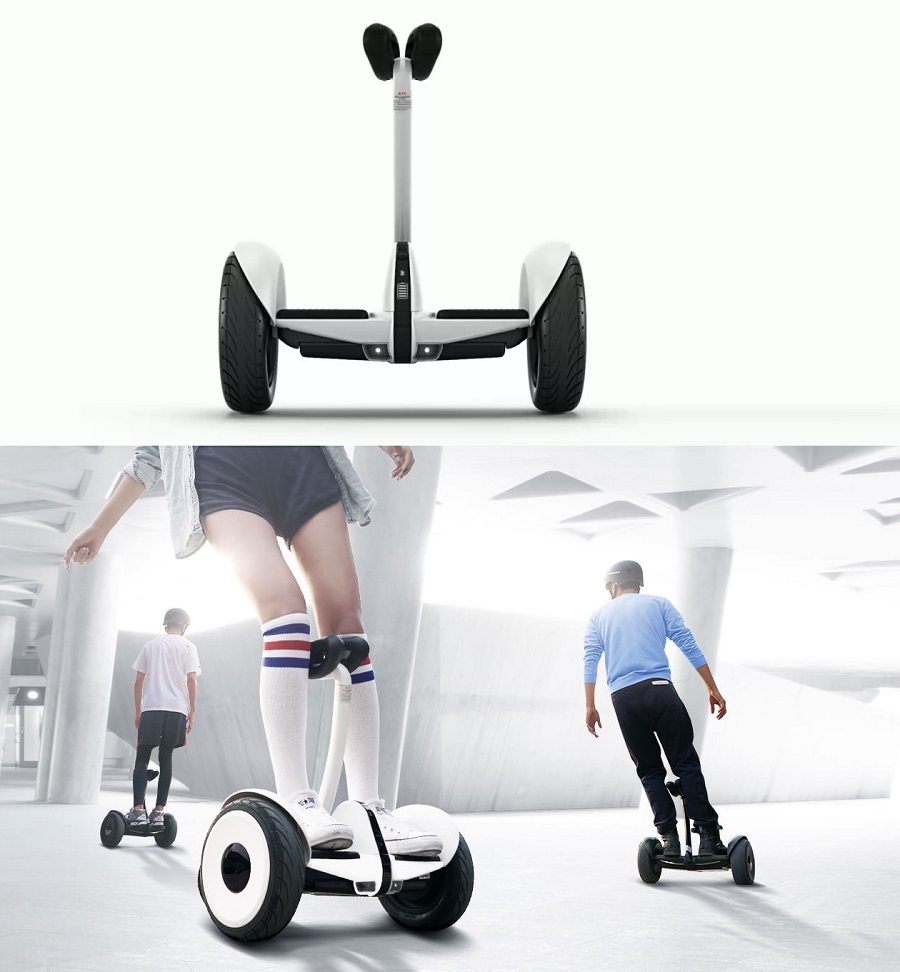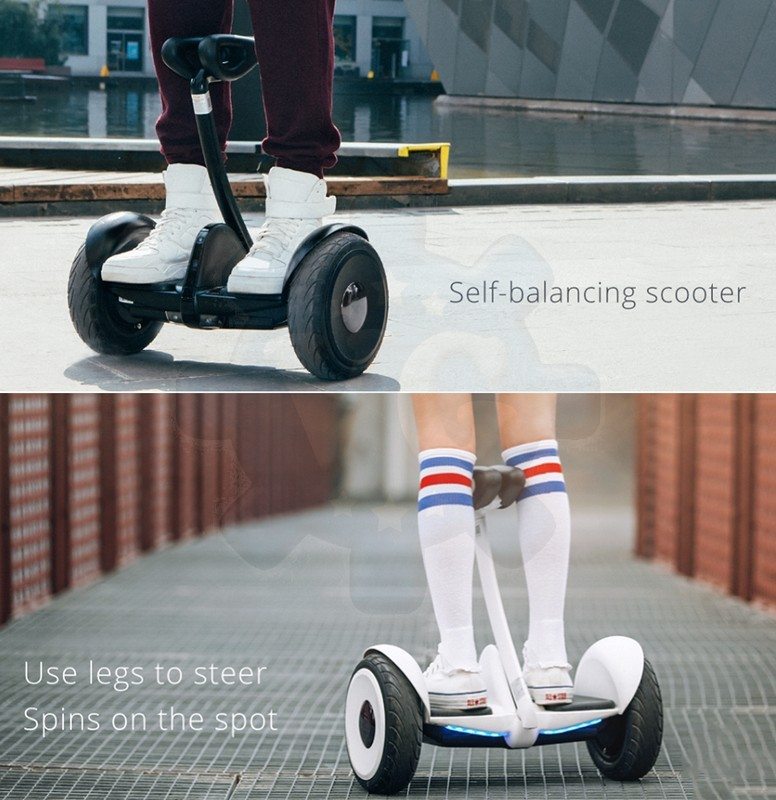 | | |
| --- | --- |
| Colour | Black / White |
| Item Dimensions | 34.02 x 21.42 x 10.31 inches |
| Shipping Weight | 38.6 pounds |
Ninebot mini
– Self-balancing scooter
– Speeds of up to 16km/h
– Climbs 15°inclines easily
– Compact, lightweight, shoulder-width length
– Weighs 12.8kg fits easily in the trunk of a car
– High capacity battery pack, 22km in a single charge
– Smart phone controls
– Aerospace-grade magnesium alloy infrastructure.
Specifications:
Manufacturer
Xiaomi
Model:
Self-balancing scooter (Ninebot mini)
Speeds of up to:
16km/h
Maximum gradeability:
Climbs 15°inclines easily
Applicable Terrain:
Hardening of the road, flat dirt road, 15 degrees below the ramp, not more than 1cm of stairs
Weight:
12.8kg fits easily in the trunk of a car
Battery capacity:
22km in a single charge
Smart phone controls:
+
Instantaneous maximum power:
2100W
Motor Control:
Sine wave vector control, current + speed closed-loop control algorithm
Chassis height:
Ground clearance than 80mm
Waterproof grade:
IP54 (life waterproof, can be used in the rain)
Energy structure:
3018650 high power lithium battery cell imports
Typical battery life means:
Full power, 70kg load, ambient temperature 25 ° C, with 15km / h average speed on a flat surface with the measured
Charger Rated power:
70W
Rated input voltage:
100-240VAC, 50 / 60Hz
Rated output voltage:
Approximately 63VDC
Charging time:
about 4 hours
Intelligent BMS:
Overvoltage / undervoltage / short / overheat protection, automatic sleep / wake, can detect the battery status via App
Standard power consumption:
One hundred kilometers consumption 1.1kW · H
Braking distance:
3.4 m dry
Brake:
Somatosensory motor absorbing braking energy recovery
Damping mechanism:
High elastic magnesium alloy body vibration damping mats +
Frame
Material:
Magnesium alloy high elastic frame
Tires:
10.5 inches low pressure vacuum rubber tires
Wheel:
6 inches magnesium alloy light-alloy wheels
Ambient light sensor type LED headlights:
Auto-sensing LED taillight / turn, Bluetooth indicator, Battery indicator
Intelligent Systems:
Intelligent adaptive learning algorithm: According to user weight and lasted driving habits, automatically optimizes output power, steering sensitivity and security
Protection limits and other parameters, and gradually adapt to the user driving style
Mobile APP: dashboard, automatic fault diagnosis, remote drive, firmware upgrades, personalized settings
Smart Security Warning: Under overload, power overload, overheating, driving too violent, skidding and dangerous situations buzzer alarm automatically, the body back to prompt deceleration and inspection
Novice Interactive Teaching: interactive mode Intelligent Assistant novice complete basic courses teaching safe driving
Novice Mode:
Yes, for an accumulated traveling 1km new car can be automatically lifted, after re-entering the novice mode available App
Age:
12-65 years
Applicable Height:
120-200cm
Maximum load:
100kg
Based on 0 reviews
Only logged in customers who have purchased this product may leave a review.
You have not viewed any product yet.