SUPERIOR DESIGN, PERFORMANCE, AND FEATURES
The Medic Filter 800 is one of the most powerful air purifiers on the market built to clean large spaces. It comes packed with advances features and cleaning capabilities.  It's extremely high CADR ensures that your entire family or workspace will be breathing clean air for years to come. It is the only air purifier on the market to come with a complimentary desktop air quality monitor and a FREE 1-year filter change. How could you go wrong?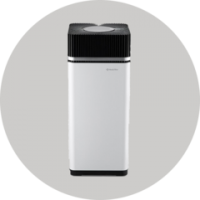 HIGH-GRADE MICRO HEPA + CARBON FILTRATION
With 2 sets of Micro HEPA-Carbon filters strategically inserted on both sides, it eliminates particulates, dust, bacteria, viruses, and VOC's. Manufactured with a higher grade material than the average HEPA filter, it traps the finest of contaminants.   Our premier filter set which includes Micro HEPA + Carbon comes standard inside the 800 Power Tower for ultimate protection.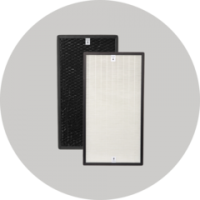 SMART SENSOR TECHNOLOGY
Packed with advanced smart technology the 800 Power Tower knows when your air is dirty. It comes with two advanced smart sensors for both particles and VOC's that automatically senses when pollution levels are too high.   Once it identifies contaminants in the air the Halo on top of the unit will change colors and adjust speeds when on auto mode to remove the dangers in the air.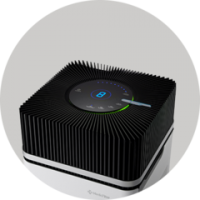 THE ULTIMATE CHOICE FOR LARGE ROOMS
This air purifier is the ideal solution for large open spaces like living rooms or offices.  Long gone are the days where you need multiple air purifiers in your space.  This air purifier cleans up to 100m2 / 1000 sqft and so you can rest assured that you will be breathing fresh clean air for years to come.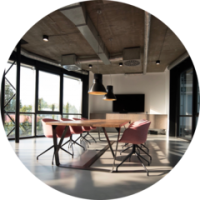 SPECIFICATIONS
| | |
| --- | --- |
| CADR Particulate Matter | 800m3/h |
| | |
| --- | --- |
| CADR Formaldehyde  | 350m3/h |
| | |
| --- | --- |
| Fan Speeds | 1-2-3-4-5-6-7-8-Auto |
| | |
| --- | --- |
| Smart Particle Sensor | Yes |
| | |
| --- | --- |
| Filter Life | 6 – 12 months depending on usage |
| | |
| --- | --- |
| Filter Type | High-Grade Micro Hepa and Carbon |
| | |
| --- | --- |
| Dimensions | 330 x 330 x 810 mm |